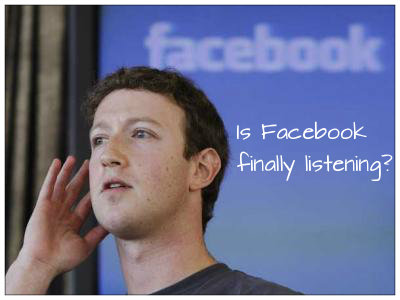 It appears that Facebook is listening to Page owners and their fans! Some called me an optimist when I said Facebook would eventually do right by page owners (potential advertisers), but it seems Facebook is actually trying. Facebook has rolled out a new 'Get Notifications' feature to all Pages and is testing a separate 'Pages Feed'.
Recently Facebook Page owners have been up in arms over the latest changes in Facebook's EdgeRank algorithm that cut engagement and reach rates lower than they'd ever been. To counter this, many Page owners asked their fans to add their Page to an interest list, click 'Show in News Feed' or interact more often. While these are 'fixes' they didn't address the bigger issue. I spoke to this in a recent blog post.
SEE ALSO: EdgeRank: Why Interest Lists, 'Show in News Feed' and Fan Interaction Don't Solve the Bigger Issue
Last week Facebook rolled out "Get Notifications" for all Pages. Page fans can now go to Pages they've liked and click the Get Notifications setting so that they will receive notifications of posts from those pages. Just hover over the "Liked" button to see the drop down and select "Get Notifications' from there.

If visiting every Page you've ever liked seems like too much work, you can also select this directly from the Page's post in your News Feed (assuming you're seeing that Page's posts there!). Just hover over the Page name in the News Feed, when the page preview pops up, hover over the 'Liked' button and select Get Notifications.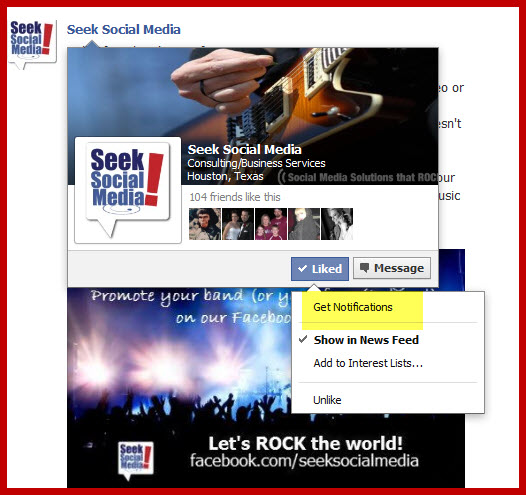 Also last week, Inside Facebook reported that Facebook is experimenting with a Pages Feed. This feed would be just like your News Feed except it would only include updates from the Pages you've liked. You can take it for a test drive by clicking this link:  https://www.facebook.com/pages/feed. This feed is supposed to show ALL updates from all the Pages a user has liked. On the surface this seems like a great idea to me, but I have to wonder if the average user will remember to (or take the time to) click over to their Pages Feed.
These may not be the perfect fixes, but it does show that Facebook is trying to address concerns from Page owners and users and find a happy medium!
What do you think? Are these new features helpful? Would you recommend something else? I'd like to know your opinion as a Page owner and/or as a user.
Carole Billingsley (@YouSeekSocial) is a social media consultant, speaker, and trainer. Combining her social media savvy with her expertise as an entertainment promoter, educator, and emergency preparedness coordinator, Carole founded Seek Social Media in 2011. She is known for her ability to make technical and social media topics easy to understand for even the least tech-savvy business owner.