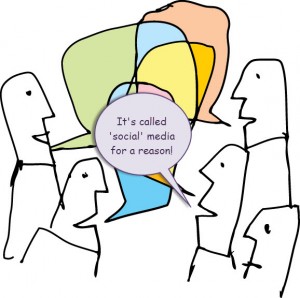 Are you wondering how to grow your band's fan base via social media? You know you need to have a social presence, but you're not quite sure what to do once you get there? How do you find the fans and supporters that will help you grow your band's presence, sell your music and fill those venues? You're not alone in your frustration. That's why I've put together a list of 5 things you can start doing today to grow your fan base via social media! Making connections via social media can inspire fan loyalty and create a buzz, so if you're not getting social yet you need to get started today. After all, it's called 'social' media for a reason!
5 Ways to Grow Your Band's Fan Base via Social Media
1)   Start with your website! Be sure that you've included social connect buttons on your site (like us on Facebook, follow us on Twitter – like the ones you see at the top right of this page). Also include buttons for connecting and subscribing to your YouTube channel, Pinterest account and any other social platforms where you can be found. If you have a WordPress site, this is easily done via a plugin. If you're not using WordPress you can do this by embedding the codes onto your site (your web designer may need to help you). Place social sharing buttons on each page of your site that contains music, event calendars, or merchandise. Make it easy for visitors to share your content and this will help you grow your fan base!
*Note: Place these buttons "above the fold" on EACH page of your site. This means they should be placed at the top of your pages so visitors don't have to scroll to see them.

2)   Invite your friends, family, and your band's email list (you DO have an email list, don't you??) to like your Facebook Page, follow you on Twitter, and subscribe to your YouTube channel. This is one of the quickest ways to grow your band's fan base when first starting. Ask these friends to share your pages with their friends, too! Speaking of people you already know…your fans at your gigs! Links to your social profiles should be on every piece of printed material, your email signature(s), and you should ask people at your gigs to follow you via social networks. Collecting email addresses at your gigs is also a great way to grow your fan base – if you have a mailing list.
4)   Connect with others in the industry! Bands, venues, labels, and industry professionals on Facebook, Twitter, or LinkedIn (or all three!) These connections can be helpful for cross-promoting with other bands, venues can easily check out your pages when they're looking for new bands to hire, and labels and industry pros constantly post about the types of music they're looking for. Developing these connections can help you get the word (and your music) in front of the right people. Social media is a very reciprocal medium so when you promote someone else's music they'll promote yours, too. Be sure to comment and interact with them…just liking a page or following someone on Twitter isn't enough. It's called 'social' media for a reason. Take a look at the people who they're following and those who are following them. You may be surprised at the great connections you'll find there! Don't forget to connect (and interact) with those people!
5)   Run a Facebook ad campaign. I know, I know…you're a musician; you don't have money to blow. I get it! The beauty of Facebook ad campaigns is that they are relatively inexpensive and can grow your band's fan base in a very targeted way quickly and efficiently. Case in point, a Facebook ad campaign I'm currently running for a client who is a Gospel singer. We started a targeted campaign for her less than three weeks ago and her page has grown from 155 to almost 1,000 in that time. These are people who are genuinely interested in her music. She's also received private messages from online radio stations and others who want to help promote her music! Well worth the cost!!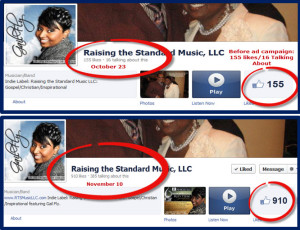 BONUS TIP: Link to your band's pages from your personal profiles. When you add your employer to your personal profile on Facebook, as you start typing the page will pop up. Click on it and it will become a link to the page on your personal profile. For an added boost, instead of putting 'singer' or 'guitarist', type in "Check out my fan page" or something similar. Here's an example from my personal Facebook page.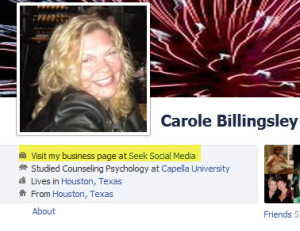 Carole Billingsley (@YouSeekSocial) is a social media consultant, speaker, and trainer. Combining her social media savvy with her expertise as an entertainment promoter, educator, and emergency preparedness coordinator, Carole founded Seek Social Media in 2011. She is known for her ability to make technical and social media topics easy to understand for even the least tech-savvy business owner.