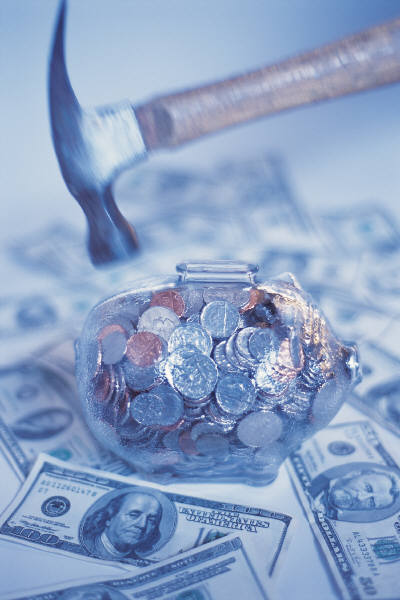 I find myself facing quite a conundrum. You see, I love Facebook! I think it's one of the most powerful business tools in the world today. As a social media consultant, I advise every client taking the social media plunge, that the very first place to begin is with a Facebook Page. No matter what your business, a Facebook presence is necessary and will enhance your business in many ways.
I am constantly extolling the virtues of Facebook – for business or pleasure – to anyone who will listen. I admire Mark Zuckerberg, and tend to defend him and his company when others are complaining about constant changes rolling out (or dismal IPOs). I've been called a Facebook evangelist, and I wear the moniker with pride.
So what's the problem? It's actually two-fold:
Promoted Posts: I don't understand why Facebook is basically forcing Page owners to pay to reach their existing followers. I don't understand it and I don't like it. Not. One. Bit. More on this in a minute.
Advertising to grow the Page so that more people won't see your posts: Growing their Facebook community is one of the first things a Page owner is tasked with once they set up a Page. This can be done in a variety of ways, but the most effective has been advertising. I've never been okay with the fact that only about 16% of fans of a Page will see the posts, but when promoted posts rolled out that added insult to injury! It's as though Facebook is telling Page owners: 'Most people won't see your posts, but you should keep advertising so that more people won't see your posts. And, don't fret over that 16% – for just a few bucks, we'll be sure that another small percentage of your fans are reached – just not everyone!' This is a real shame because I've personally experienced the effectiveness of Facebook ads for growing my own business Page. I've been running ads on my new Page and have watched it grow from 139 likes to over 800 in just a couple of weeks – still only about 10 – 12% are seeing my content.
Let's look at each of these in more detail:
Promoted Posts
Promoted Posts is a new feature that's been rolling out the past few days. They are accessed at the bottom of your post(s). For little as $5, you can promote your posts to reach more of the people who like your Page and their friends. 
Awesome!!!!
Wait. What???
I have to pay so that people who've already opted-in by liking my Page (and who I've already advertised to) will see my posts?? I'm at a loss to understand how business owners and social media managers believe this to be a good thing, but some seem to be genuinely excited about this feature. The way I see it, I already paid for those people to see my posts by advertising in the first place! The followers have already expressed to Facebook that they want to see my posts by clicking like.
But it gets better. Take a look at the image below that shows what I'll get for my Promoted Post. I can pay $5.00 to reach an additional 70 of my…say it with me…EXISTING fans. How does that even make sense? I could take that same $5, apply it to advertising, and reach 200,000+ people who aren't already connected to my brand. Funny thing is when Promoted Posts originally showed up on my Page, I had several pricing/reach options. Now, only one option…for less than 100 people. Update: As of this morning, my Promoted Posts will go out to 2,700 people. Still not cost effective.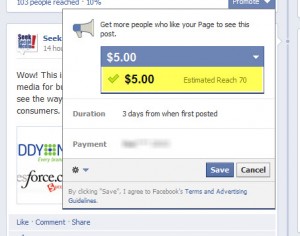 Running Ad Campaigns So That More People Won't See My Posts
As I said earlier, I've been running campaigns for my new Page and it's grown to over 800 likes. I felt that this was a good investment at the time: grow the Page organically with ads targeted to my ideal audience of business owners. But now I'm wondering why I spent all that money and time running those campaigns since, in reality, I've just spent money so that more people won't see my posts. Granted 16% of 800 is more than 16% of 139, but really???? I'd be willing to spend a lot more money on advertising – and encourage my clients to – if I knew that all of these new followers were going to see my posts after they like the Page. After all, I want to grow my Page so that those new people will see the information I post, connect and engage with me and my community, foster brand loyalty, and eventually some of them will become clients. That's sort of the point.
Advertising is Facebook's Largest Revenue Source
I understand that Facebook is a business and, as such, must generate revenue. I understand that to keep the platform free for users, advertising revenue is the name of the game. I also understand that given the recent IPO issues, Facebook probably feels the need to prove to the world that it's a viable business that can generate big revenues. Got it. And, I understand that Facebook advertising is relatively cheap given the number of targeted people that can be reached.
So why does it seem that Facebook doesn't understand that business owners will eventually advertise on the platform in order to grow their audience, engage with potential clients, and ultimately enhance and grow their businesses? There's really no other way to grow your reach in such a targeted way without advertising. I mean, really, posting and asking for likes will only get you so far. At some point you'll have to advertise. It's just good business sense.  Or it was, anyway. Now it seems that I'm spending money growing my Page just so that I can spend more money trying to reach the same people I reached with the ads.
If I were assured that posts from liked pages – mine, my clients', or anyone else's, for that matter – would, at the very least, show up in all the followers' news feeds, I'd be all for the Promoted Posts along with advertising. As for now, I'll continue to advise my clients to advertise, but will be certain that they're made aware of the above issues, and may advise them to adjust their budgets accordingly.
Will you be advertising and/or promoting posts? Do you agree or disagree with my assessment of the issues? Please tell me what you think and what this means for your Page(s) – or your clients' Pages. I want to hear your opinions!
Carole Billingsley (@YouSeekSocial) is a social media consultant, speaker, and trainer. Combining her social media savvy with her expertise as an entertainment promoter, educator, and emergency preparedness coordinator, Carole founded Seek Social Media in 2011. She is known for her ability to make technical and social media topics easy to understand for even the least tech-savvy business owner.